Rss feed
How To Keep Our Community Safe From The Coronavirus
Monday, 27 July 2020
**Originally Posted on Tuesday, 31 March 2020Here are some preventative methods and information via the World Health Organization that can help keep our community informed and safe while we all face new challenges during the current Coronavirus outbreak.

Help Share these tips with our community so that we can all help #FlattenTheCurve! 

Source: https://www.who.int/emergencies/diseases/novel-coronavirus-2019/advice-for-public

Preventative Coronavirus Guidelines For Our Law Enforcement Family
Monday, 27 July 2020
**Originally Posted on Saturday, 28 March 2020Our priority will always be protecting our communities and amidst the Coronavirus outbreak, we're still out there ensuring that everyone is safe while our nation experiences new challenges every day.Here are some useful tips for our fellow officers to remember via the Centers for Disease Control and Prevention that can help keep all of us protected as well.Be sure to share and together we can all help #FlattenTheCurve!Source: https://www.cdc....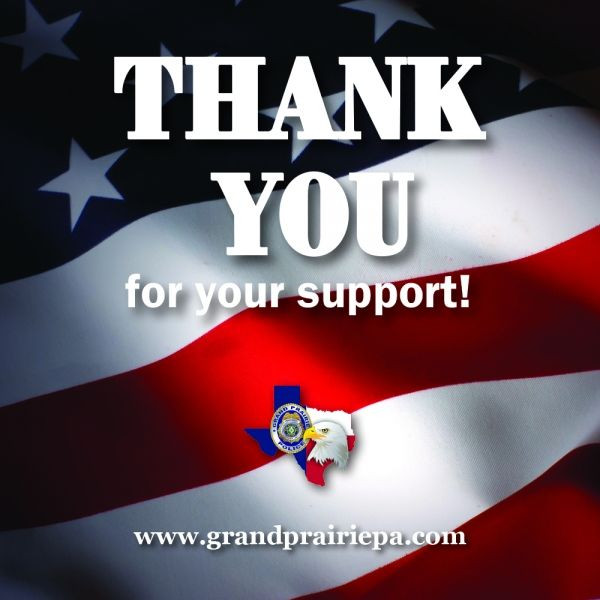 Thank you for Supporting the Badge
Monday, 27 July 2020
**Originally Posted Friday, 11 January 2019The Grand Prairie Police Association would like to thank YOU for your donation, time and committed support during our "Support The Badge" fundraising campaign. Your generous donations will help us support our critically injured officers and their families.Thank you for your generosity and for standing side-by-side with our law enforcement family.Thank YOU for joining our police family and being part of a community team that connects us all tog...
Remembering 9/11
Monday, 27 July 2020
**Originally Posted Tuesday, 04 September 2018The tragic events that took place on September 11, 2001 changed America forever. On this day, we honor the 343 lives that were lost as they attempted to save the lives of others. We will never forget the bravery and sacrifice of these heroes.
What happens when we run out of cops?
Monday, 27 July 2020
**Originally Posted Wednesday, 23 May 2018What happens when we run out of cops? This is a question worth asking as it pertains to the safety of our communities, families, and friends. Police recruitment and retention may be one of this countries biggest problems. To read more about what will happen when we run out of law enforcement officers, click on the link below. https://www.lawenforcementtoday.com/what-happens-when-we-run-out-of-cops/
National Police Week honored 135 fallen
Monday, 27 July 2020
**Originally Posted by Thursday, 18 May 2017In 2016, the profession of law enforcement, and our nation, lost 135 police officers in the line of duty. This national figure is the highest it has been since 2001, with nearly half of these brave men and women having been killed in ambush-style attacks; with the remaining being a result of various other incidents, including traffic-related accidents and suffering heart attacks on the job. This May marks the 55th year, in which thousands of pol...
We Need Your Support Now More than Ever
Monday, 27 July 2020
**Originally posted by Wednesday, 14 December 2016We proudly protect our communities, children, and families, despite the difficult year the brave men and women of Law Enforcement has had to face. It is not an easy job, but we wear our badge with a humble pride and seek to make the community we share a safer place to live and work. That's why I am asking for your help.At the time you receive this letter there have been 138 line of duty deaths of Law Enforcement officers across the US, an...